"Baked Ziti"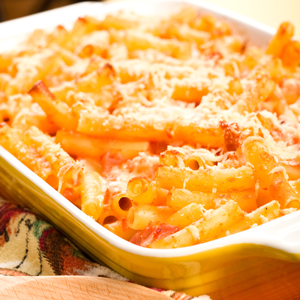 Baked Ziti's ingredients are similar to lasagne's, but much easier to assemble.  This hearty dish is especially welcome on a cold winter evening.  The recipe (adapted from http://allrecipes.com/recipe/11758/baked-ziti-i/) is really more of an idea of proportions and a starting point for experimentation.

INGREDIENTS
Olive oil
1 pound ziti (can substitute any similar pasta, such as penne)
1 onion, chopped
1 pound Italian sausage, casings removed (hot or mild, or substitute any meat you like)
52 oz. spaghetti sauce (2 jars, if you're using jarred sauce)
6 oz. sliced provolone
1 ½ cups ricotta
6 oz. shredded mozzarella
2 Tablespoons grated parmesan (I usually use a lot more, to taste)

INSTRUCTIONS
Lightly coat a 9×13 baking pan with olive oil, and preheat the oven to 350°F.
Boil pasta in a large pot of salted water until al dente (follow instructions on box).  Drain and set aside.
While waiting for water to boil, sauté onion in a large skillet over medium heat until translucent, then add sausage and stir until cooked.  Add sauce and simmer about 15 minutes.  Herbs or anything else you find interesting can be added at this point.
Layer the baking pan as follows: ½ the pasta; provolone & ricotta; ½ the sauce; remaining pasta; mozzarella; remaining sauce; parmesan.  This should just barely fit in the pan.
Bake for 30 minutes, until cheeses are melted.  I like to serve with garlic bread.
Download PDF (Right click and choose "Save as…")